JAMBI EKSPRES:
Papuan students protest against US mining giant Freeport outside the US embassy in JakartaA tribal chief in Indonesian occupied West Papua launched a legal campaign on August 11 to get compensation from the US mining giant Freeport for environmental damage to his homelands.
Fabianus P., chief of the Kapiraya tribe, said tailings from Freeport's huge gold and copper mine in Indonesia's easternmost Papua province were causing more widespread ecological damage than was known, the PNG Post Courier cited the Indonesian Antara news agency in an August 13 report.
"He said several rivers in his tribe's Kaimana district had been polluted, killing wildlife and poisoning water sources for local people. Mine waste was also fouling parts of the Etna Gulf coastline.
"The local village communities were now facing water shortages as their rivers were contaminated by the chemical pollutants from the company," the Antara report said.
Fabianus said he had hired lawyers to file a law suit against PT Freeport Indonesia over the alleged environmental damage.
The Jakarta Post reported that Fabianus, chief of the Extended Kapiraya Tribe, "told the press on Monday, so far, Indonesia and the world only knew that the company's tailings had polluted the Aijkwa River in Kaimana district causing a degradation in the local ecosystem, especially the region's forests".
"But in reality, he said, the US gold and copper mining company had also polluted rivers in Kapiraya Mimika Barat Jauh and Mimika Tengah sub districts, including rivers in Teluk Etna and Poturawae sub districts.
"The company's tailing pollutants were piling up on the coast of Teluk Etna (Etna Gulf) and Poturawae, and the forest ecosystem in southern Papua was also affected by the pollution.
"The local village communities were now facing water shortages as their rivers were contaminated by the chemical pollutants from the company, he said.
"Endemic crocodiles and tortoises of Teluk Etna are currently on the brink of extinction due to pollution.
"Fabianus urged five cabinet ministers, namely ministers for health, the environment and forestry, marine and fisheries and the energy and mineral resources minister to take the company to account.
"He also asked the government to demand that PT Freeport Indonesia provide CSR (Corporate Social Responsibility) funds to the indigenous people of Mimika Barat Tengah and Mimika Barat Jauh in Mimika District, as well as those in Teluk Etna and Putorowae in Kaimana District.
"PT Freeport has so far provided funds only to the Kamoro-Amungme tribes in Mimika District.
According to the August 13 report in the PNG Post Courier, Freeport Indonesia is 81 per cent owned by US-based Freeport McMoRan. The remaining stakes are shared equally between the Indonesian government and Indocopper Investama.
Freeport Indonesia is believed to be one of Indonesia's most significant taxpayers and paid the government $US1.8 billion ($A2.03 billion) last year.
Critics accuse Freeport of not giving enough to the people of Papua in return for the mine. They also allege that the military's protection of the site leads to human rights abuses.
Freeport operates concessions totalling 3.6 million hectares stretching from the coast to the central mountain range at Timika, with its copper reserves
estimated at 2.6 billion tonnes.
Source: PNG Post Courier, Jakarta Post
Background: Freeport and a Nation without Sovereignty
Title : Freeport, How Have Giant Gold and Copper Mines "Colonized" Indonesia?
Writer : Torry Kuswardono, Siti Maimunah, et al.
Publisher: WALHI – East Java, Jakarta, 2006
Thickness: x + 90 pages.
A series of pointless humanitarian tragedies. This is the portrait of Indonesia, a country lacking sovereignty, and that worships 'objects' rather than 'collective dignity and prestige as citizens'. A history that tells of suffering, poverty, stupidity and shallowness. However, not a bar of this has brought the wisdom of learning and improvement. This story begins with the drama of PT Freeport Indonesia.
Since 1967 and the signing of the Generation I Mining Work Contract between the Government of Indonesia and PT Freeport Indonesia, the lives of the Amungme, Kamoro, Dani, Nduga, Damal, Moni and Mee (Ekari) ethnic groups have withered. Environmental damage as the destructive output of PT Freeport Indonesia's mining activities has been the major factor in the wreckage of the future for these seven 'children of the earth'. They no longer joke. The laughter of children is no longer heard. The same goes for the community kinship which once joyously and cooperatively wove the threads of the future. Conflict now emerges with regular and unceasing frequency.
Various crimes committed by PT Freeport Indonesia have eroded the quality of life of the seven ethnic groups located at the PT Freeport Indonesia mine – both humanitarian crimes and also environmental crimes. According to The New York Times (27 December 2005), the volume of PT Freeport Indonesia's mining waste is twice the size of the Panama Canal (viii). It is no exaggeration that the Papuan land faces ruin on a massive scale.
The Republic of Indonesia Ministry for the Environment (KLH RI) is aware of the environmental destruction caused by PT Freeport Indonesia's mining activities (23 March 2006). Unfortunately, environmental transgressions are not taken seriously at the green table, even though PT Freeport Indonesia is proven to have broken Environmental Law No. 23/1997. In contrast to KLH RI's attitude, the Government of Norway has retracted US$ 240 million (around Rp 2.16 trillion) of pension funds that had previously been invested in Freeport McMoran Copper and Gold Inc, after observing the destructive impacts of mining carried out by PT Freeport Indonesia (ix). To borrow the phrasing of Amien Rais, what sort of nation and government do we have?
Freeport's Crimes
Freeport McMoran Copper and Gold Inc was once a small company in the United States, the result of a merger between Freeport Sulphur and McMoran Oil and Gas Company. However, since discovering the third-largest gold and copper deposits in the world, in West Papua to be specific, Freeport has transformed into a world-scale gold mining company (p. 5).
The history of natural resources conglomerate Freeport McMoran Copper and Gold Inc involves many stakeholders, mergers, and shifts in ownership. In its operation, Freeport McMoran plays a duet of businesspeople with officials and politicians in the United States. This acts as a lubricant in its corporate expansion and capital accumulation in all corners of the globe, not excepting in West Papua, Indonesia. For example, Henry Kissinger, the former United States Minister for Foreign Affairs, became the company director. In this dance, Freeport McMoran provided some $730,000 to members of the US Congress, including President Clinton and the Democratic Party (p. 7).
PT Freeport Indonesia is a subsidiary company established by Freeport McMoran Copper and Gold Inc, who own the majority of its shares. PT Freeport Indonesia has conducted exploration at two sites in the Tembaga Pura region, Mimika Regency, Papua Province, namely the Erstberg mine (from 1967) and the Grasberg mine (since 1988).
Since exploration conducted by PT Freeport Indonesia, a number of serious crimes have been committed. First, systematic, ongoing and deliberate destruction of the environment. Second, taxation crimes. Third, humanitarian crimes, where the basic rights of seven ethnic groups in the location of the PT Freeport Indonesia mine have been violated. Moreover, PT Freeport Indonesia in 2003 acknowledged that it had paid the Indonesian military (TNI) to evict the local population from their area. According to a report by The New York Times (December 2005), total payments during 1998-2004 reached almost US$ 20 million.
Chris Ballard, an Australian anthropologist who previously worked for Freeport, and Abigail Abrash, a human rights activist from the United States, estimate that 160 people were murdered by the military between 1975-1997 in and around the mining area.
Marginalization of the Nation of Papua
The people used to believe in mythology related to the first man, who originated from a mother. After death he became the earth that extends throughout the Amungsal (Amungme land), an area regarded as sacred by the local people such that it is forbidden by tradition to enter it. The metaphor of 'mother' became symbolic of how the seven ethnic groups in Amungme Land lived in and interacted with the environment. However PT Freeport Indonesia entered this sacred area in 1971 and opened the Erstberg mine. Since 1971, the Amungme ethnic groups have been moved away from their land to the mountain foothills. Since then the environmental condition of Amungme has slowly but surely been destroyed. The lives of the Amungme, Kamoro, Dani, Nduga, Damal, Moni and Mee (Ekari) ethnic groups have become increasingly oppressed by boundless poverty and suffering.
Just look and see. When Papuan people scraped for some gain, mining the tailings in the Kabur Wanomen River, they were roughly expelled by the PT Freepart security and Indonesian defense personnel, and even shot and killed. It seems inconceivable that the people they are chasing away are our own people, scraping waste for a scrap of profit from a mountain of abundance that we actually own. Must Indonesian people lose their lives just to get a piece of gold the size of a grain of sand from the industrial waste of PT Freeport?
The sadness is even more overwhelming when we realize that there is a modern city, Kuala Kencana, near Timika, where the senior staffs of PT Freeport reside. Meanwhile, just 6-7 kilometers away, there is a Papuan orphanage where the standard of living is the same as if the children had never been "found". Within this radius, our people can still be found wearing penis gourds.
The government seems two-faced in dealing with Papua. We grind down an abundant mountain in the name of national prosperity, but let our people live as if in the Stone Age when it comes to caring for cultural values. Papua is the pride of the United Nations of the Republic of Indonesia. Manifest that pride in the chests of Papuans. Don't let them be forced to seek their own dignity. Isn't Indonesia a collection of nations who historically developed unity to confront colonizers?
The clash with Freeport is indicative of Indonesia-US relations, wherein the public psyche sees a "weak country" facing a superpower. The US as a superpower with all manner of foreign policy instruments can dictate its desires, and erode our nation's bargaining position. This perception of RI-US bilateral relations is the product of collaboration that is unequal and that is not mutually beneficial.
In view of the complexity of the Freeport problem, the authors of this book make major recommendations: first, to carry out a thorough evaluation of all aspects of PT Freeport Indonesia's mining; second, to facilitate a full consultation with the Papuan indigenous peoples, especially peoples located around PT Freeport Indonesia's mines; third, to follow-up on findings of legal violations through the relevant authorities; and fourth, to map and study a number of scenarios for the future of PT Freeport Indonesia, including the possibility of closure, production capacity and processing of waste (p. 69).
With a prologue narrating the identity of Freeport, their work contract, PT Freeport Indonesia's crimes in Papua, violations of human rights and military business, plus a good epilogue touching on the attitude that the government must take in order to salvage the dignity of all citizens, especially the peoples of Papua, this 90-page book is well worth the read for anyone who still cares.
Freeport Belum Sejahterakan Papua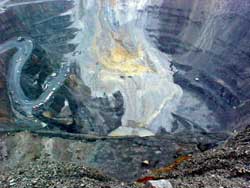 JAYAPURA — Keberadaan PT.Freeport Indonesia yang beroperasi di sebagian besar daerah potensial logam di Pegunungan Tengah, Provinsi Papua hingga kini belum dapat ikut mendongkrak tingkat kesejahteraan masyarakat Papua secara signifikan.
"Re-negoisasi kontrak karya Freeport yang telah berlangsung dua periode sejak 1967 harus dapat memberikan perubahan untuk masyarakat Papua tetapi ternyata hal itu belum terwujud," kata Ketua Program Studi Hubungan Internasional, Universitas Sains dan Teknologi Jayapura (USTJ), Aria Aditya Setiawan di Jayapura, Selasa.


Pendapatan dari Freeport lanjutnya, ditambah dana Otonomi khusus (Otsus) setidaknya bisa dikelola dengan baik guna menjawab tantangan pemerintah tentang keadilan yang selama ini ditanyakan atas Papua dan kondisi masyarakat lokal.
Pertanyaan kritis adalah, apakah Freeport sendiri belum memberikan perhatian secara penuh untuk ikut meningkatkan kesejahteraan rakyat Papua ataukah masyarakat dan pemerintah setempat belum mampu mengelola dan memanfaatkan dana yang sudah diberikan Freeport kepada rakyat Papua selama ini.


Penduduk asli Papua yang hanya mengenal jenis modal terdepan dan ekonomi kas dalam waktu kurang dari satu generasi, menderita karena kurangnya pelatihan dan akses terhadap modal. Mayoritas penduduk Papua masih mengandalkan pertanian yang sederhana dan berburu yang hasilnya tidak bisa berkompetisi dengan ekonomi lokal dan nasional.
Sementara itu, PT.Freeport merupakan salah satu perusahaan asing yang beroperasi melalui Kontrak Karya (KK) di wilayah Papua dan merupakan Penanaman Modal Asing (PMA) terbesar yang memberikan devisa bagi negara melalui penambangan emas dan tembaga di Timika.
Selama periode KK I tahun 1973-1991, perusahaan pertambangan yang berinduk pada Freeport-McMoran Copper & Gold Inc. ini telah mendapat laba 1,1 milyar dolar AS. Sementara untuk kas Indonesia, Freeport hanya menyetor 138 juta dolar AS dalam bentuk deviden, royalti dan pajak atau sekitar 12,54 persen.


Dengan bekal KK II, selama 30 tahun ke depan, areal penambangan Freeport terus melebar hingga ke Deep Area, DOM dan Big Gossan yang sudah siap dieksploitasi. Sedangkan daerah Kucing Liar serta Intermediate Ore Zone (IOZ) masih dieksplorasi.
Lebih lanjut Aria menyatakan, walaupun Freeport telah melakukan investasi senilai 4,5 milyar dolar AS, hanya sebagian kecil dari investasi tersebut berpengaruh langsung pada ekonomi lokal.
Diantara penyebabnya adalah gaji dan berbagai kompensasi yang dibayarkan kepada masyarakat non-Papua tidak berpengaruh pada ekonomi lokal karena para pekerja mengirimkan sebagian besar gajinya ke negara asal atau ke luar Papua.
Selain itu, mayoritas dari perusahaan sub-kontraktor beroperasi di Jakarta dan mengimpor peralatannya dari luar Papua.
Sebagai contoh, tembaga dari Garsberg dikirim dan diproses di perusahaan pengolahan hasil kerja sama Mitsubishi dan Freeport di Gresik, Jawa Timur dengan nilai kontrak 700 juta dolar AS.
"Pemberian tersebut mungkin merupakan keputusan bisnis yang benar, tapi dari sudut pandang orang Papua, mereka kehilangan sebuah kesemmpatan," kata Aria.


Namun demikian, sejauh ini Freeport terus melakukan usaha untuk memberikan pelayanan sosial dan memperbaiki kualitas hidup penduduk yang tinggal di daerah operasi penambangan dengan melakukan skema reinvestasi dan beragam program pengembangan.
Hal tersebut ditujukan untuk pendidikan, kesehatan, usaha kecil dan pembangunan infrastruktur untuk tujuh suku Papua yang berdiam di daerah operasi, termasuk Suku Amungme dan Komoro.
Freeport tampaknya masih akan lama bercokol di Tanah Papua dengan adanya kontrak untuk kegiatan tambang Garsberg yang berlaku sampai 2021 dengan opsi memperpanjang perjanjian hingga 20 tahun kemudian.